Richpeace Cap / Tubular Embroidery Machine, low noise, stable operation, smooth and bright stitching. Integrated cap embroidery,readymade garment embroidery and flat embroidery in one machine, which can be freely converted. Suitable for embroidery on caps, RMG and cut pieces, multiple functions and high efficiency.

Tubular embroidery:embroidery requirements on T-shirts, sportswear or othertypes ofready-made garments.

Cap embroidery:300° embroidery around cap.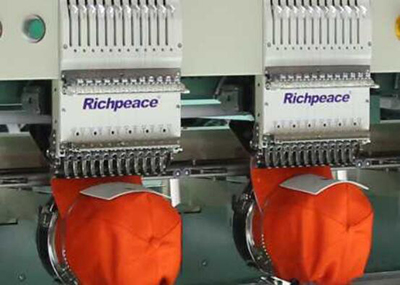 Flat embroidery:Detachable fronttables can realize normal flat embroidery after installation.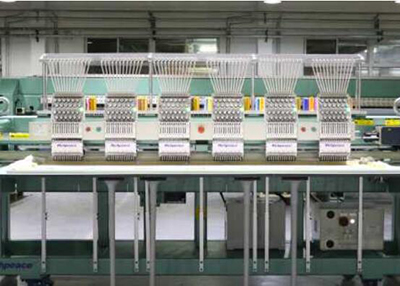 Sock embroidery (optional):For embroidery on finished socks.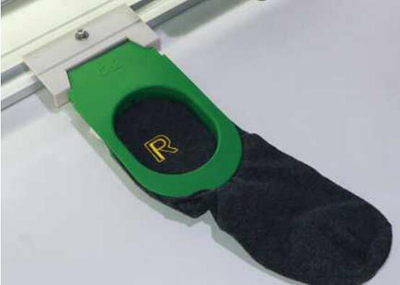 Pants embroidery (optional):Embroidery on sleeves and trouserlegs.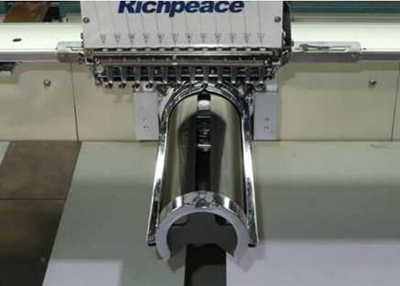 ① Richpeace Model III computer control system:10.1-inch (LB)/15.6-inch (HB) LCD touch screen, screen display refresh rate 50ms/time,real-time dynamic display.
② Full servo motor drive for Main shaft and X/Y shaft:high precision, fast speed, low noise.
③ Latest Thread guiding system:Independent and smootherthreading without entangled, less breakage rate.
④ Lead screw color change:color-changing speed as fast as 1.2 seconds/ 9 needles, with more accurate position.
⑤ Dynamic motor thread trimmer:Controllable thread length, higher efficiency, quieter and more environmentally friendly.
⑥ New upper thread holder:Reduce the rate ofthread breakage.
⑦ Widened transmission linear guide rail:low noise and long life.
⑧ Cap frame:standard configured 1 cap frame/head, 2 cap hoops/head, one frame base.
⑨ Tubular frame:: standard configured 6 sizes (295mm, 240mm, 208mm, 190mm, 145mm, 95mm), two sets/head.