Richpeace garment sewing machine with innovative anti-drill-down technology and beautiful thread ensures high quality sewing
Richpeace garment sewing machine is fully automatic and suitable for all kinds of clothing accessories. This sewing machine is the industry's innovative anti-drill down technology to ensure that clothing sewing process has no drill down. The presser foot of the machine automatically adjusts the height according to the thickness of the material. Equipment operation is simple, easy to learn and use, is a good helper of garment processing enterprises.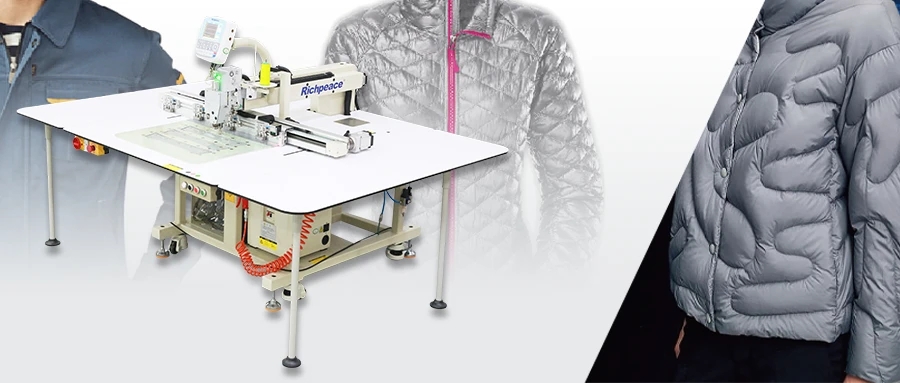 Product Introduction
1. The computer control system, independently developed by Richpeace, is easy to learn and could be mastered within 10 minutes;
2. Patterns are transmitted through WIFI, it can store 8 million stitches, and the number of patterns is unlimited;
3. Complete new structure of sewing head and automatic lubrication system make the noise lower and longer machine life-time;
4. RICHPEACE unique down-proof technology could avoid down leakage during sewing and ensure stitches quality;
5. Flexible with pressure sensitive press foot, could adjust the height automatically according to various material thickness, ensure good quality & precise stitches can be performed;
6. X-direction rail structure for easy access to templates, easy to operate, fast and efficient;
7. Folding table, various sizes available, exquisite construction, suitable for various scale of garment factories;
8. Barcode scanning feature to identify pattern file;
9. Steel synchronous belts, rotary hook , bearings, guide rails, pneumatic parts etc are all imported from well-known brands, which ensure the service life of the machine;
10.Richpeace template CAD, free to import a variety of template files, no format conversion, easy to learn. Machine options: universal template + laser configuration + cutter device.