A design software specially designed for the professional designer. The system consists of five modules: Garment style design, Knitted fabric design, Woven fabric design, Three - dimensional map design, Printing color separation design. The five modules can be any combination according to the needs of users, plug-in programming design.At the same time this version contains a wealth of material library for the majority of fashion designers at any time to extract.

Note:

This version is for sale,one dongle can independently control one computer.
Five Modules

1.Garment Style Design
Garment style design and molding design,pattern design,free painting fashion renderings,variety of pen type(drawing pen, watercolor pen oil pen, soft pen, spray pen, vector pen) and stitch (general line, zipper line, drawing pen, Shenzhen). True color design environment, the international popular color library and school color tools, copy, deformation, fill, color integration, automatic color change, image processing tools, various design material library, collar type, Library, pocket library and so on.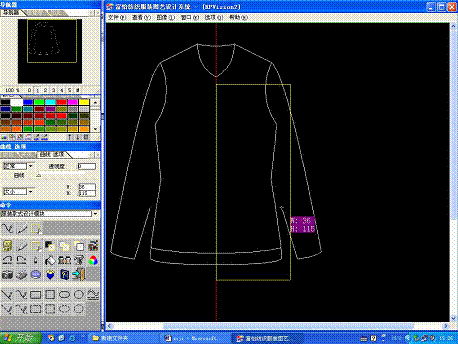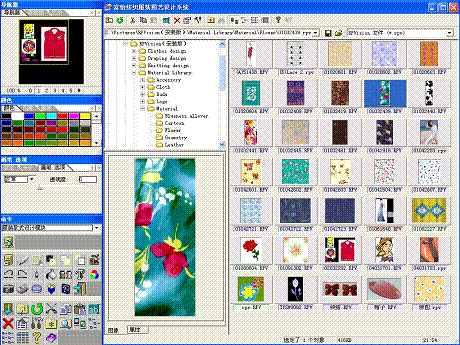 2.Knitted fabric design

The 3D stereo knitting effect of any pattern, including clip yarn, cashmere and grinding yarn and other special effects. Convert the knitting picture / photo into a knitting organization unit. (Photo size, black and white, hand-woven, jacquard), the amount of yarn, the color ratio, the number of color change and so on.
3.Woven fabric design
Abudant structure of the library, including knitting organization unit, jacquard, clip yarn, etc. A number of organizational structure library, can be plain, satin, regular organization, free organization design, automatic generation of wear brown and pattern map. Colorful yarn design, the yarn density, twist, type, twist and other parameters and color settings.


4.Three - dimensional map design
True and accurate three-dimensional fabric map, with a fast, easy to operate, the effect of realistic features, is the fashion designer favorite tool. Will be made of fabric or scanned fabric samples or patterns, through the label, transparent, rotating texture to the model stereoscopic Dress, you can keep the original three-dimensional clothes, and paste the fabric can be rotated to adjust the size of the adjustment of the size of the pattern, adjust the overall color of the shade of clothing.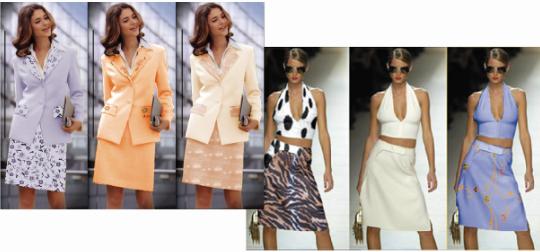 5. Printing color separation design
Providing a variety of color separation processing functions,(RGB color separation and CMYK color separation), spot color separation (intelligent automatic separation and manual separation): through the interactive operation can be the smallest print color separation number And fine color separation version, both cost savings and no loss of print pattern effect, the completion of the color separation version can also be made into film. Also provides a variety of color separation version of the network function, for any angle, the number of lines To set, switch the gray level and grid gray scale, single grid, double grid, super grid grid way to choose.To complete the user design sample print pattern (cloth pattern scan pattern) to do automatic splicing, Rules stitching, horizontal (vertical) stitching and other operations, in order to get a printing pattern that can return back.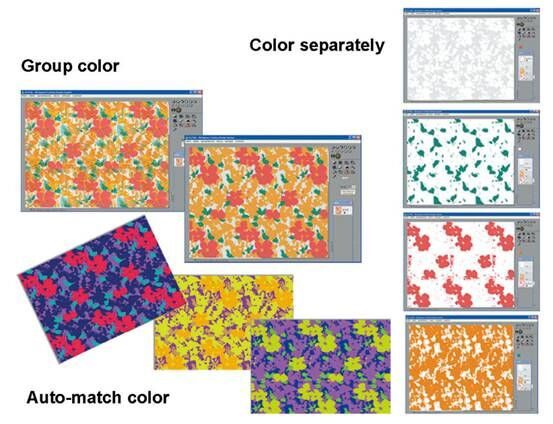 Features
1. System features: Exceptionally abundant performance tools, efficient and efficient production process, a variety of information transmission methods.
2. Main features: The system has a Chinese, English multiple language versions, friendly appearance, vivid image of the command icon and toolbar, can be an unlimited number of revocation. Abundant and easy shortcuts, open model library, fabric library, style library, parts library, pattern library, users can create their own scan. Compatible with a variety of image software standard file format.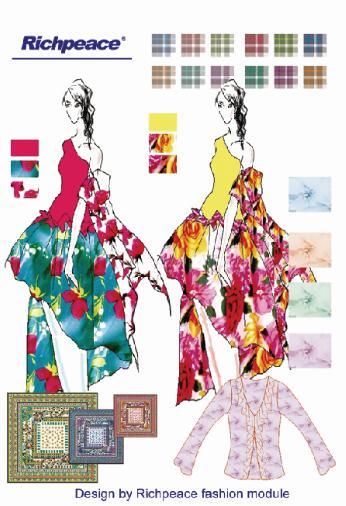 3. Simple design: unique layer concept, so that the background, models, garment, garment accessories with any combination. A variety of different types of brush and the use of a combination of handwriting, so that the costume design received the effect of talent. Various parts of the library, collar, sleeves, pockets, belts, hats, lace and other arbitrary modification of the deformation, the combination of use. A variety of image filter effect, so that the effect is more vivid, realistic. Built-in PANTONE color library, to maximize your color selection needs "path" (ie vector line) tool, with powerful path editing and management features that allow you to fly more freely in your own vast design space. Text input for the design to provide comments, but also writing art font.

4. Fabric design: color integration, color changing tools, can change any fabric color. Unique color matching function, so that the system automatically with color, can generate hundreds of millions of color scheme. All kinds of plaid, fur, knitting, woven, printing and other material library. Mobile, copy, deformation use, can make any fabric shrink, rotation angle, can also change the transparency of the fabric. The various knitted unit library contains twist, needle, lap, hollow and other hundreds of knitting unit, to meet the needs of a variety of knitted fabric design. According to customer needs to clip the yarn design. Through the organization and the latitude and longitude of the yarn design and production of various types of woven fabrics.
5. Abundant colors: In addition to the international standard PANTONE color library, the "Richpeace textile and apparel graphic design system" also provides you with the user library, RGB color library, CMYK color library. Can be color selection, image adjustment, RGB adjustment, image gradient, image coverage, so that the color of the image more abundant.