+86-22-2253 3456
Meet thousands of miles and welcome you at the Richpeace Frankfurt Home Textiles Fair.
---
  "Heimtextil" Frankfurt International Home and Commercial Textiles Exhibition is one of the most successful exhibition brands in Frankfurt and the largest and most international exhibition in the field. At the same time, the prestigious forecast of fashion trends at the Frankfurt International Home and Commercial Textiles Fair has made it the forefront of the global trend of home textiles.
  Richpeace has been working on the automation of production systems in the home textile industry for many years, from stand-alone to full-process production lines, and now has automation solutions for edging, quilt, duvet and American fat.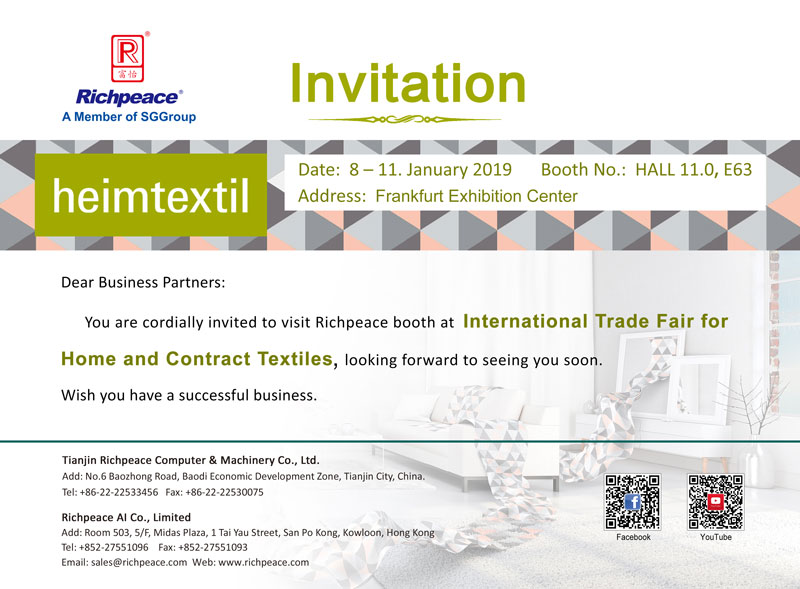 Richpeace invites you to our booth
  Time: January 8-11, 2019
  Location: Frankfurt Exhibition Centre
  Booth No.: 11.0, E63
  Exhibition overview
  "Heimtextil" - The Frankfurt International Home and Interior Textiles Fair is one of Frankfurt's successful exhibition brands and a large and international exhibition in this field. Today, "Heimtextil" is still growing and strengthening its position as the leader of similar exhibitions in the industry. "Heimtextil" is a great opportunity for high-quality exhibitors from design, creativity and manufacturing. It is also an ideal platform for the whole industry to release furniture fabrics, interior decoration products, new trends and designs.
  Exhibition floor plan