+86-22-2253 3456
[Exhibition Preview] The 19th Shanghai International Textile Industry Exhibition [November 25-28, 2019]
---
  Time: 2019.11.25-28
  Venue: Shanghai New International Exhibition Center
  Booth No.: E1B01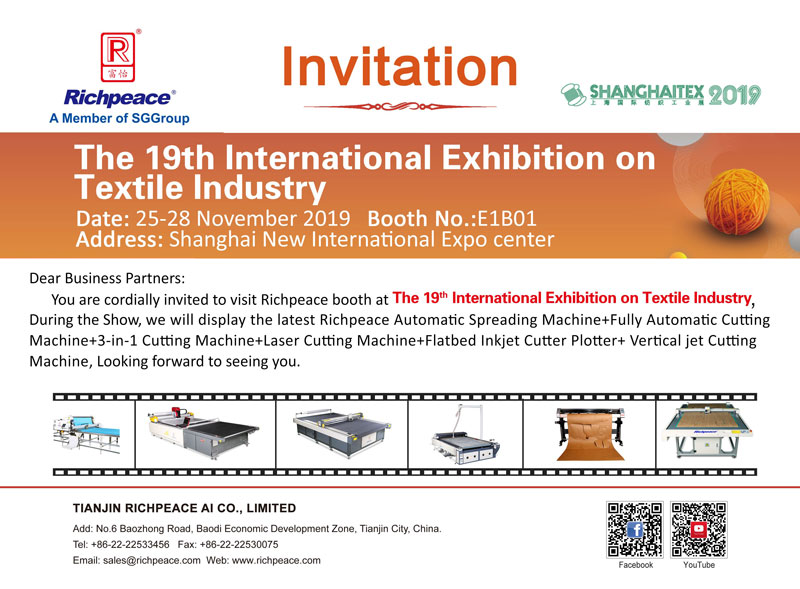 Richpeace Multiple Material Automatic Cutting Machine
  One cutting bed, three functions; cutting / inkjet / pen drawing
  Working mode 1, inkjet + round knife / straight knife / vibrating knife mode
  2, pen drawing + round knife / straight knife / vibrating knife mode
  3, inkjet / pen drawing / round knife / straight knife / vibrating knife mode
  Standard configuration: round knife + inkjet + pen drawing + ordinary feeding frame
  Optional equipment:
  1. Vibrating knife/straight knife (inkjet or pen drawing can only be matched with one type of tool when the machine is working)
  2. Constant tension automatic feeding frame (applicable to cloth with heavier cloth, laser positioning automatically aligns cloth edge)
  3. Air pump
  Suitable cutting materials: including knitted fabrics, woven fabrics, leather, non-woven fabrics, sponges, kraft paper, corrugated paper, KT boards, rubber materials, etc.
  Richpeace clothing intelligent cutting solution
  Richpeace Automatic Spreading Machine
  Scope of application: clothing, toys, luggage, automotive interiors, medical and other knitting, woven, denim fabrics and leather
  Richpeace automatic computer cutting machine
  Scope of application: Suitable for woven fabrics, knitted fabrics, leather fabrics, non-woven fabrics, denim fabrics and flexible fabrics such as polyester and nylon.