+86-22-2253 3456
[Exhibition Preview] The 25th China International Composites Industry Technology Exhibition
---
  Time: 2019.09.03~09.05
  Venue: Shanghai World Expo Exhibition Hall
  Booth No.: B382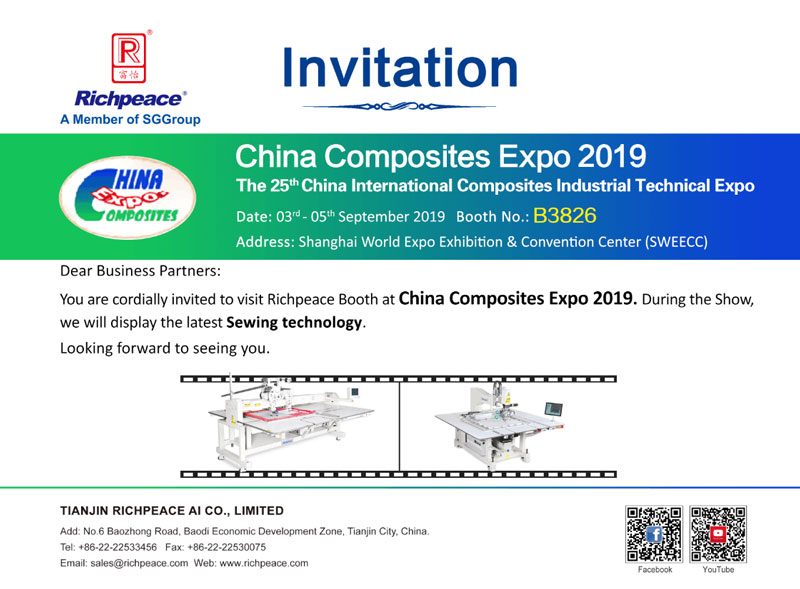 Exhibitor equipment
  Richpeace Rotating Double Needle Automatic Sewing Machine - Multilayer Material CNC Sewing
  RPAS-MH-R-1-900X600-A-IS2.6+FD-HR2.6-LH100,RH,UTC-1P220
  Machine performance:
  1. Double needle spacing 4-12mm, single needle double needle optional;
  2. Sewing thickness up to 10mm;
  3. Needle size from 900X600mm to 3200x3200mm is available;
  4. Adopt independent drive rotary head;
  5. When sewing thick materials, lift the machine head to ensure the working space, suitable for sewing of a variety of clamping;
  6. Double-needle and double-line arbitrary angle tracking to achieve perfect stitch sewing;
  7. The position of the presser foot is raised by the motor to obtain a stable sewing effect for the seaming;
  8. The use of full servo motor to achieve stable sewing, suitable for a variety of sewing conditions.
  Scope of application: Multi-layer CNC stitching of multi-layer glass fiber cloth, carbon fiber cloth and other special fiber cloth.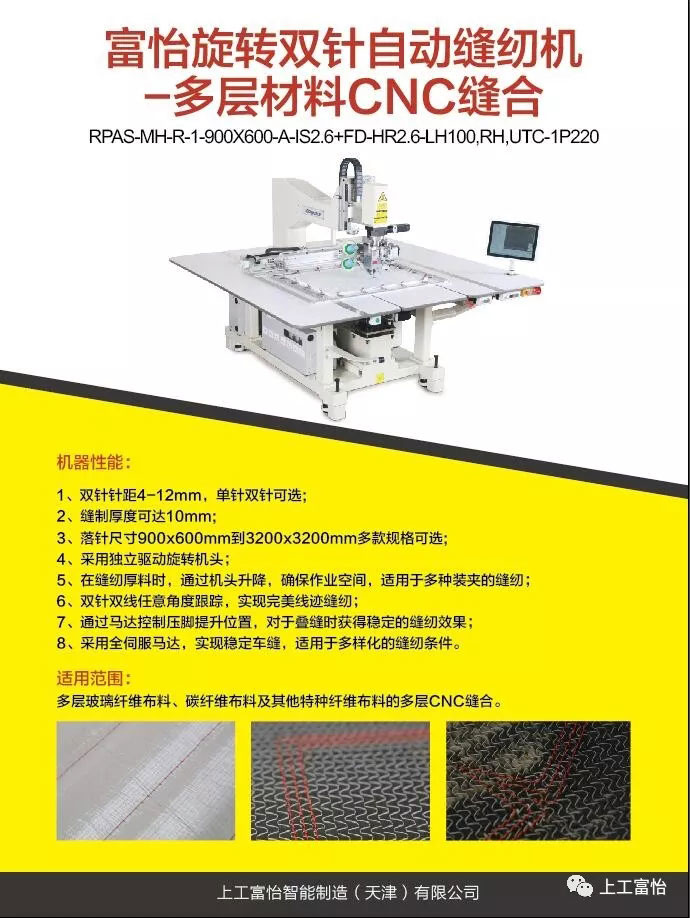 Richpeace composite computer wiring machine
  RPCE-WS-02-450(900)X800-B
  Machine performance:
  1. For fiber wiring, it is possible to sew a continuous fiber into any shape. The fibers can be oriented in the direction of stress without bending, and the fibers can be angled and thicknessed at any local level;
  2. The area of the single-headed seam is 450X800mm, and the seam area of the gap is up to 900X800mm;
  3. The carbon fiber can be laid at a speed of 750 needles/min. The carbon fiber can be laid at any angle according to the design. The pattern design can be divided into different seam layers, and each layer can be designed with different seam angles to achieve reasonable acceptance. Force distribution
  4. Automatic wire feeding device: According to the demand of the wiring wire, the wire can be adjusted in real time, which can meet the wiring requirements without causing the wire to accumulate;
  5. Independent wire feeding system: dedicated wire feeding plate, independent channel, reducing the wire feeding resistance, and increasing the angle around which the fiber line can be wrapped, the maximum can be 720 degrees.
  Scope of application: various fibers such as glass fiber, carbon fiber, aramid fiber, plant fiber, organic fiber, and hybrid fiber.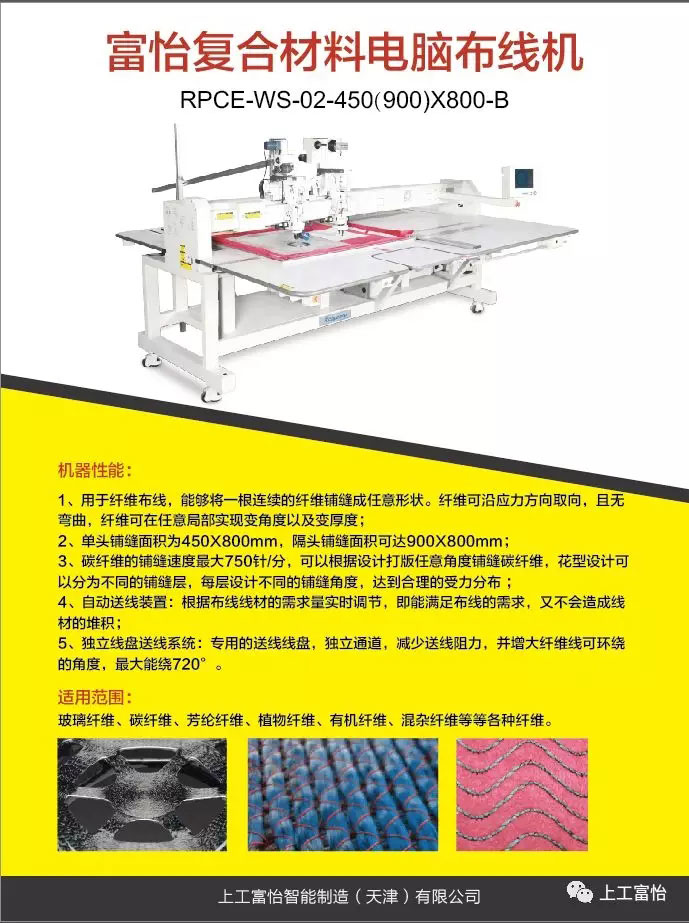 Exhibition overview
  China International Composites Exhibition is the largest and most influential composite material industry exhibition in China and even in Asia. It ranks among the top three in the world, demonstrating its professionalism and mature charm as a "leader". The organizers rely on 23 years. The experience accumulates and enjoys the influence advantage at home and abroad. It is widely publicized, meticulously organized and enthusiastic. It invites professional visitors from all walks of life in the government, industry and society to make every exhibition become an entrepreneur's festival and industry. The event, its professional image, brand and status not only received strong support from relevant government departments, but also received unanimous recognition from the industry.