+86-22-2253 3456
Richpeace invites you to participate in the Shanghai International Furniture Production Equipment and Woodworking Machinery Exhibition
---
  Time: 2019.09.08~09.11
  Address: National Convention and Exhibition Center (Shanghai·Hongqiao)
  Booth No.: 7.1C5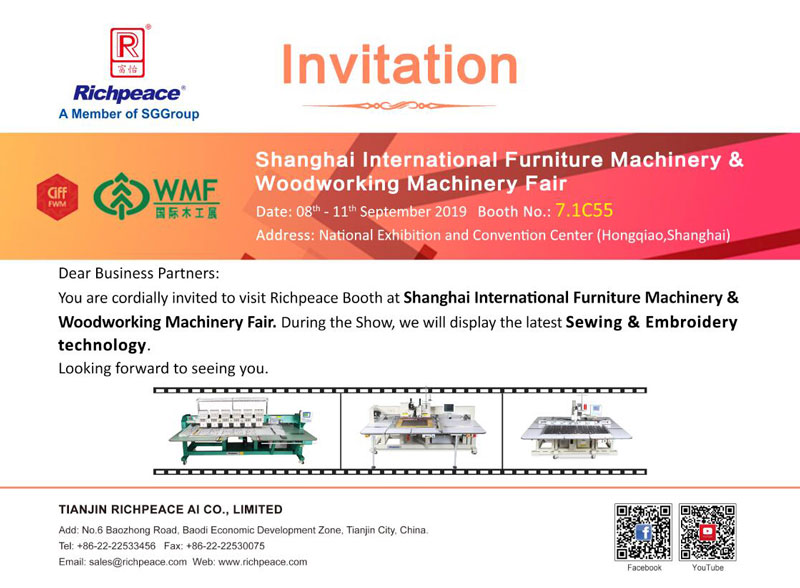 Exhibitor equipment
  Richpeace Precision Computerized Embroidery Machine
  Software, electronic control, mechanical independent intellectual property rights of embroidery equipment suppliers, with strong research and development capabilities.
  Richpeace's self-developed intelligent embroidery pattern-making software seamlessly interfaces with Fuyi embroidery equipment.
  Used in precision embroidery in the fields of clothing, home textiles, furniture, automotive interiors, toys, etc.
  Richpeace automatic punching sewing machine
  Sewing is integrated into the punching, and the computer controls the punching to drop points and punch out the desired combination pattern.
  Suitable for automotive leather seats, foot pads, aviation seats, leather furniture, sports shoes, leather shoes, leather clothing and many other fields.
  Richpeace automatic single needle leather machine
  The machine head can be rotated at any angle to ensure the quality of the sewing stitch.
  Presser foot height motor control, which can automatically adjust the height of the presser foot according to the thickness of the sewing material.
  Suitable for single-needle sewing of leather materials such as car seats, airbags, automotive interiors, furniture, home textiles, ships, and aviation.
  Exhibition overview
  Joint Shanghai Home Expo
  Open a new era of woodworking furniture
  Join forces with the "China (Shanghai) International Furniture Fair" to jointly organize the "Shanghai International Furniture Production Equipment and Woodworking Machinery Exhibition", and work together with the furniture production upstream and downstream industrial chain to open a new era of industrial "manufacturing + quality".
  Standing in the Chinese woodworking industry for more than 30 years, the International Woodworking Exhibition is a must for woodworking machinery, furniture and wood products manufacturers to send and receive the latest information.
  Subdivided into the theme area, the exhibition introduces new resources such as primary wood processing machinery and wood-based panel production equipment. The subject covers a complete system of equipment from the production of logs and finished furniture to pollution treatment.
  The European Woodworking Machinery Manufacturers Association (EUMABOIS) is the only woodworking machinery exhibition in China. The China Forestry Machinery Association (CNFMA) is one of the organizers.