+86-22-2253 3456
Network version Install Considerations and the solution of software can not opened after installed.
---
1.Precautions:
1.1 Driver should be installed under administrator's competence;
1.2 Attention to quit the firewall and anti-virus software completely ,if you have to exit, please go to Task Manager to see if it is still running, such as still running, end this program;
1.3 Exit all programs that prevent USB from running.
The solution that can't be done by software:
2.1 Go to Start - Control Panel - Uninstall the program, turn up
, to uninstall completely,then re-install the driver.From the "My Computer" to open installation letter of the software ,such as C drive -C: \ Program Files \ Richpeace garment CAD V9.0 (Enterprise Edition)--
--

--

,restart it after installed.
2.2 Exit the firewall and anti-virus software and any organize USB running program;
2.3 Check the local area network is Unimpeded;
2.4 In the site configure the host (if the IP address of host is 192.168.10.1) for XP system;
2.4.1 Enter the IE address bar with:
2.4.2 Select Configuration,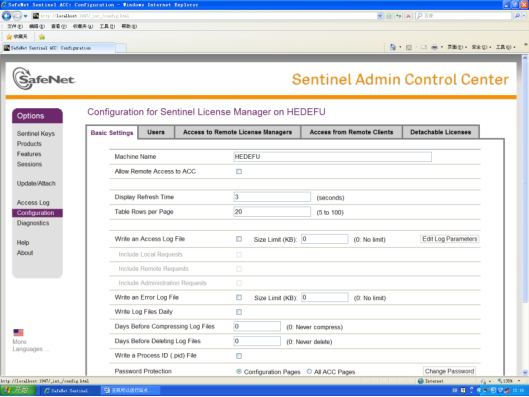 2.4.3 Select Access to Remote License Managers and enter the IP address of the host in the right Sidebar of Specify Search Parameters,then press "Submit".
2.4.4 Run the"DGS"or"GMS" program in one minute later.